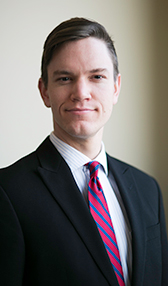 James D Steele
Practice Areas
James Steele's practice focuses on civil litigation in all areas of law, with a focus on insurance law, municipal law and estate litigation.  He has appeared before all levels of Saskatchewan courts.
Education
Prior to studying law, James earned a Bachelor of Arts in History from the University of Saskatchewan (U of S), graduating with Great Distinction.  While earning his Juris Doctorate of Law at the U of S, James awarded the P.E. Mackenzie Prize for the highest academic standing in the Evidence course and served as student editor of the Saskatchewan Law Review.
Community Involvement
James's dedication to the community is demonstrated through his volunteerism with the Multiple Sclerosis Society of Canada and the Canadian Diabetes Association.
His work life is balanced with his passion for music. James is extensively involved in fiddle music throughout Saskatchewan, performing regularly at festivals and shows. He is a former Canadian Grand Master Fiddle Champion, a six-time Grand North American Champion, and nine-time Saskatchewan Champion.
PUBLISHED ARTICLES
Practitioner Articles
Academic Articles
James Steele, "Deterrence not Damages: The Punitive Rationale for Solicitor-Client Costs" (2017) 36 Can J Ins L 164
James Steele, "The Partisan: The Life of William Rehnquist by John A. Jenkins" 2014 Sask. L. Rev. 77(2)
James Steele,  "The 'Duty to Defend' Exception:  Solicitor-Client Costs and Liability Coverage Proceedings", Issues in Focus in Craig   Brown & Thomas Donnelly, Insurance Law in Canada, loose-leaf (Toronto: Thomson Reuters, 2016) [forthcoming in 2018]
James Steele, "Statutory Forebears: Legislative Evolution as a Means of Statutory Interpretation" (2018) Stat.L. R. [forthcoming]
Contact Information
Direct: 306-933-1338
Main: (306) 652-7575
Email: James D Steele
---
Related News
Related Articles