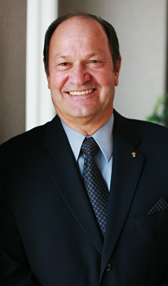 Kenneth K E Ziegler, Q.C.

Practice Areas
Ken has a diverse commercial law practice with many years of experience in international transactions, immigration, business law, banking and finance law, real estate law, in addition to matters related specifically to agricultural, forestry and Aboriginal law. Ken also acts as a business mentor and business planner/advisor to many organizations in Canada and Internationally.  Ken's many leadership roles in business organizations in Saskatchewan reflect his commitment to the creation of wealth in Saskatchewan through healthy economic growth and prosperity of our province.
Education
Ken is a graduate of the University of Saskatchewan and received both a Bachelor of Arts degree (B.A.) and a Bachelor of Laws degree (LL.B.) in 1972. He was called to the Saskatchewan Bar in 1973 and received his Queen's Counsel designation in 2015.
Professional Involvement
Ken is very active within his profession and the business community in Saskatchewan. He is a member of the Saskatoon Bar Association, the Law Society of Saskatchewan and the Canadian Bar Association.  As well, the Barreau du Quebec (Quebec Bar Association) has granted Ken a Special Authorization to act in Quebec on immigration matters.  Ken has held a number of leadership roles in the Saskatoon and District Chamber of Commerce, having served as President of the Chamber, Chair of the Aboriginal Opportunities Committee, Co-Chair of the Going Global Commitee, and member of the Agribusiness Committee and Political Affairs Committee.  Ken is also a member of the North Saskatoon Business Association, the Saskatoon Regional Economic Development Authority, a representative member of Saskatchewan Trade and Export Partnership, a former Director of the Saskatchewan Chamber of Commerce and an Ambassador in the Province of Saskatchewan Ambassador Program.  Ken acted as Directors on both Wanuskewin Heritage Park and the University of Saskatchewan Technologies Inc. Ken served as the founding President of the Prairie Centre Policy Institute, and he is President of GPC Capital Corporation. In this capacity, Ken previously acted as the In-Country representative for Saskatchewan Trade & Export Partnership for China and the Philippines. Ken is a Board Member of the Hanlon Centre for International Studies, Edwards School of Business, University of Saskatchewan.  Farther afield, he is a former Director of the Rocky Mountain Trade Corridor (Canada/USA) and has acted as a representative of Inter-American Development Bank, Washington, D.C.
Ken has many years' experience working with clients in Asia and Europe.
International Initiatives – Asia and Europe
Ken has undertaken many initiatives in Asia and Europe to attract investment, new business and immigrants to Canada. Ken has been appointed as an Honorary Trade Advisor to Canada on behalf of the Ministry of Commerce, Royal Thai government and mentor, on behalf of Food Beverage Canada to assist Canadian businesses enter the Asian market. In Europe, Ken has hosted a number of investment attraction and immigration seminars. As a result of this, Ken has worked with many business owners and investors from Europe representing their legal, immigration and business needs as they relocate and invest in Canada. Ken has also hosted a number investment attraction and immigration seminars in Asia. Additionally, Ken leads private trade missions comprised of business investors and industry from Canada to Asia. In turn, Ken hosts business owners, investors and trade groups from Asia entering the Canadian market, and represents their legal, immigration and business needs as they settle, invest and set up business operations in Canada. Ken works with Canada's overseas posts in Europe and Asia in order to facilitate the legal and business needs of business investors in Canada from Europe and Asia.
Ken is also a member of the Hong Kong Economic and Trade Office, a member of the Canadian-Shanghai Chamber of Commerce, a member of the Canadian Chamber of Commerce in Hong Kong, and a member of the Canadian- Vietnam Chamber of Commerce in HCM City, Vietnam.
On behalf of Food Beverage Canada, Ken has led Trade Missions to Hong Kong, Macau, Philippines, Vietnam and Thailand.
Most recently, working with GPC Capital Corporation, Ken has undertaken a four-year project with the Food Processors Associations in each of B.C., Alberta, Saskatchewan and Manitoba as well as Food Beverage Canada relating to accessing opportunities in the Asia Pacific market. The project will cover trade, commercial transactions and foreign direct investment from Asia into the Western Canadian food processing industry.
Contact Information
Direct: (306) 933-1314
Main: (306) 652-7575
Email: Kenneth K E Ziegler
---
Related News
Related Articles
X
To: Kenneth K E Ziegler