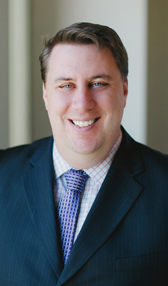 Sean M Sinclair
Practice Areas
Sean is a partner with Robertson Stromberg LLP.  His practice areas include family law, estate litigation, media law/defamation and administrative law.
Sean has appeared before all levels of courts in Alberta and Saskatchewan. In addition, Sean has significant experience before administrative tribunals and in arbitrations.
Sean's primary goals in handling files are to achieve fair and just results for his clients, consider creative solutions to problems and provide practical, problem-solving advice.
Education
A University of Saskatchewan graduate, Sean received his Bachelor of Laws degree in 2003.  He was called to both the Saskatchewan and Alberta Bars in 2004.
Professional Involvement
Sean was elected as Bencher of the Law Society of Saskatchewan in 2012.  As a bencher, Sean is involved in decisions about the setting and enforcing of standards for admissions, professional conduct and quality of service for lawyers in Saskatchewan.
In 2015, Sean was appointed to the board of directors of the Canadian Media Lawyers Association as representative for the Prairie region.  Sean's expertise in media law and defamation led to The Lawyers Weekly quoting him in the Schofield article "Successful Summary Judgment May Not Bring Very Much Reward"(2016) 35 The Lawyers Weekly 42 at 2.  The article deals with the Saskatchewan Court of Appeal ruling [2016] SKCA 17 which drastically reduced the amount that the CBC was originally ordered to pay social activist Bill Whatcott.
Sean is frequently involved in continuing legal education activities. Sean has lectured or published articles for the Law Society of Saskatchewan, the Saskatchewan Trial Lawyers Association, the Canadian Bar Association, Construction Specifications Canada and the Canadian Media Lawyers Association.  In 2011, Sean was a sessional lecturer at the Saskatchewan Institute of Applied Science and Technology (SIAST).  He also assists regularly with the training of young future lawyers through CPLED.
Sean is a member of the Law Society of Saskatchewan, the Law Society of Alberta (non-practicing), the Canadian Bar Association, Ad Idem (Canadian Media Lawyers Association) and the Saskatchewan Trial Lawyers Association (STLA).  Sean is a past governor of the STLA and legislative liaison for the Family Law North subsection of the CBA.
Key Cases
CTV v Stonne (2016 SKQB 300).   In this September 13, 2016 decision from the Court of Queen's Bench, the Honourable Justice Acton quashed a decision granting a publication ban in a criminal matter. Justice Acton considered some jurisdictional issues and reiterated the legal tests that need to be applied to consider publication ban requests. Ultimately, the position of the media organizations, CTV and the Saskatoon StarPhoenix represented by Sean Sinclair, was successful and the publication ban was removed.
Contact Information
Direct: (306) 933-1367
Main: (306) 652-7575
Email: Sean M Sinclair
---
Related News
Related Articles