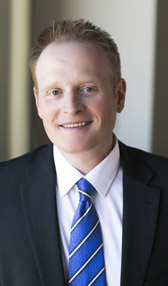 Scott D Waters

Practice Areas
As partner, Scott brings more than 15 years of general business practice to the firm. Focusing primarily on corporate and commercial law, Scott is able to advise both new and established businesses on matters of structuring, financing, reorganizations, acquisitions, divestitures and general ongoing business matters.
Scott is knowledgeable in and regularly advises financial institutions with respect to lending and security issues.
Education
Scott graduated from the University of Saskatchewan with a Bachelor of Arts (History) in 1997. He received his Juris Doctor, also from the University of Saskatchewan, in 2000. He was called to the bar in 2001.
Community Involvement
When he's not practicing law, you can find Scott coaching or assisting with his children's sporting activities (hockey, baseball and football), or otherwise spending time with his family.  Scott is also actively involved with the Saskatchewan Sports Hall of Fame and Museum, where he has been director since 2006 and is currently serving as past president of the board.
Contact Information
Direct: 306-933-1387
Main: (306) 652-7575
Email: Scott D Waters
---
Related News